Patient Newsletter
October 27th 2014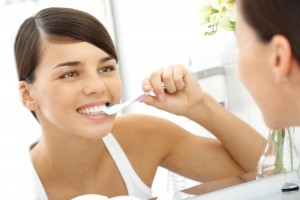 Most people know that good oral hygiene includes brushing your teeth at least twice a day. And for most, those two times are usually in the morning—as you're rushing to work or getting the kids off to school—and at night, when you're fighting to keep your eyes open before falling into bed. Regardless of whether your day is beginning, ending or somewhere in between, proper brushing is worth the time and effort for good oral health.
First off all, did you know that proper brushing requires at least two minutes? Most adults spend a fraction of that time brushing their teeth every morning and night. Try looking at the clock when you start brushing, then brush normally and check the time when you're finished. Chances are you didn't spend enough time to thoroughly clean your teeth. To really do a good job and ensure better oral hygiene, spend two minutes brushing.
What is the Best Technique for Brushing Teeth?
When brushing your teeth, it's important to hold your toothbrush at a 45 degree angle against the gum line and sweep or roll the brush away from your gums. Don't brush side to side, which can scrape your gums. And be sure to use short strokes as you brush away from your gums.
Start out cleaning the outer surface of your upper teeth and then your lower teeth. Continue by brushing the inner surface of upper and lower teeth. Then, brush the chewing surfaces of your teeth, concentrating on your molars. Finally, be sure to brush your tongue, too.
Tools for Proper Brushing
Always choose a soft brush with round-ended bristles. Stiff bristles can hurt your gums. A powered toothbrush can be a good choice, too, especially if you have difficulty brushing because of limited manual dexterity. The type of toothpaste you choose is an individual matter. There are a variety of toothpastes to address a variety of concerns from teeth whitening and cavity prevention to eliminating tartar and reducing teeth sensitivity. Talk with your local dentist about which toothpaste is best for you.
October 17th 2014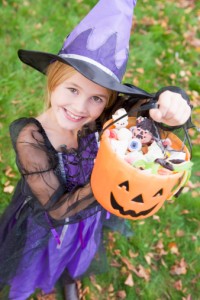 Halloween is undeniably a favorite holiday for millions of children from across America, offering the perfect opportunity to dress up in creative costumes and bring home tons of sweet treats. While we'd never discourage any of the festivities and fun of trick-or-treating, we do want to emphasize the importance of keeping those precious pearly whites healthy this holiday season. With preventive dentistry solutions like dental sealants and fluoride supplements, we can help ensure your child's continued oral health all year round.
Preventing Cavities this Holiday Season
The two most common childhood dental concerns are tooth decay and periodontal disease. Because prevention is always the best medicine when it comes to your child's oral health, routine dental exams and cleanings are integral to a future of healthy smiles. Particularly around the holidays, it is important to consider the effects of sugary treats – including Halloween candies like lollipops, chocolate, and candy corn – on a child's vulnerable teeth. Your child's tooth enamel isn't as resistant to plaque buildup, so twice yearly cleanings are vital.
During your child's dental visit, ask about dental sealants and fluoride supplements. Dental sealants effectively protect teeth from cavities, especially in hard-to-reach places like the first and second molars. Fluoride supplements can actually fortify tooth enamel, remineralizing the surfaces of the teeth to further ward off attacks from cavity-causing bacteria. After your child is done divvying up all of his or her favorite treats from Halloween, consider donating the excess to a Halloween buyback program. This will help keep those cavity-causing temptations out of reach, further protecting your child's smile.
Keep Your Child's Smile Shining Brightly!
Your child's dentist is your ongoing partner in building a strong foundation for oral health in the future. If you have questions about preventive dentistry services, including fluoride and dental sealants, contact your local dentist's office for more information.
August 8th 2014
People are always trying to find the tastiest and best ways to quench their thirst. Whether it is a glass of water or an energy-inducing sports drink, finding a beverage that is both satisfying to their taste buds and nourishing to their bodies can be difficult. What people may not realize is that tea, specifically green tea, has amazing benefits for your body, and is also delicious! Being excellent for your oral and bodily health, green tea is an excellent option for those who wish for something flavorful and wholesome.
For those who are heart conscious, green tea is amazing for your heart! Green tea contains catechin, which is an antioxidant that fights and prevents cell damage. This equals a strong, healthy heart. Studies have also proven that consuming green tea increases the amount of activity in the brain that controls working memory. Another instance where green tea is good for your brain, it has been shown that green tea blocks the development of the type of plaque that is linked to Alzheimer's disease.
Green tea has also been shown to stabilize blood sugar levels, which is great for those who have diabetes. Having an amino acid called theanine, a calming effect can take place while drinking green tea. This is especially helpful for those who are under high levels of stress. Though losing weight is never an easy experience, green tea boosts your metabolism, making you burn more fat calories. A high valuable beverage, green tea has the potential to help your smile, heart, and brain!
July 22nd 2014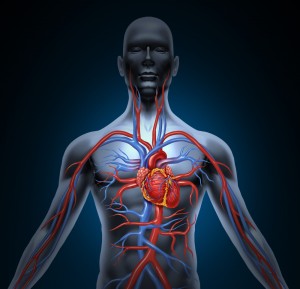 Most people know that gum disease (also known as periodontal disease) can cause major problems like bleeding gums, tenderness, and even eventual tooth loss. The more serious complications associated with this common disease, however, are not as readily recognizable. Keeping your gums free of infection can actually help you avoid a variety of other health problems now and in the future.
Oral Health and Your Future
When your gums are infected, the bacteria that flourish there can easily travel through your body to other tissues and organs. Because this process takes time, you may not even realize that you are at risk until more pressing symptoms arise. Medical problems that have been linked to untreated gum disease include the following:
Complications in pregnant women, including pre-mature birth and low birth weight infants
Dementia in older patients
Pancreatic cancer
High blood pressure
Heart attack
Stroke
Rheumatoid arthritis and other bone/joint problems
Complications in the treatment of diabetes
Treating periodontal disease now is one of the first lines of defense against these and other medical conditions. Your dentist can discuss with you the periodontal therapy process, providing you with all the information you need to make a decision regarding your oral health and your systemic well-being.
Healthy Gums, Healthy Body
If you have noticed the tell-tale signs of gum disease (including bleeding gums, sensitivity, redness, and a receding gum line), it is imperative that you make an appointment with your dentist as soon as possible. Early treatment of gum disease helps ensure a faster recovery, thereby reducing your risk of developing diseases and health conditions like those listed above. Call your local dentist today and take the first step toward a healthier body and a happier smile with periodontal therapy.
May 30th 2014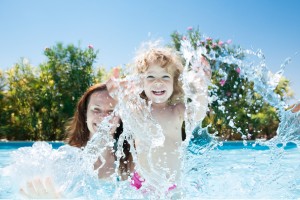 The temperature is on the rise and school's letting out for summer. Everywhere you look, people are heading out to the pool, to the beach, and to summertime parties with friends and family. Make sure that your smile is ready for summer with these top tips!
Keeping Your Smile Healthy All Summer Long
While you maintain your oral health at home with daily flossing and brushing, it's still important to visit your dentist twice per year for a thorough exam and cleaning. Summer is a great time to schedule these general dentistry checkups for kids because now they won't have to miss school for their appointment! Also, because many popular summertime beverages contain added sugar and citric acid (think lemonade, sports drinks, sodas, and wine spritzers), it is important to rinse your mouth often with a little water after sipping on these types of drinks. Be careful not to brush for at least an hour after your last beverage, though, because the substances within them can actually cause your enamel to become temporarily more susceptible to erosion.
Perhaps you're not comfortable with the state of your smile due to cosmetic flaws. Before summer is officially in full swing, why not treat yourself to one of the many cosmetic dentistry procedures offered at your dentist's office? Whether you opt for professional teeth whitening, porcelain veneers, or a full smile makeover, you'll be glad you did when you're finally able to smile with complete confidence.
Unexpected Causes of a Dingy Smile
Naturally, you'd love it if your teeth stayed radiantly white all summer long, allowing you to show off your smile freely whenever and wherever you'd like. Unfortunately, many of the activities in which we engage during the summer season can harm our smiles, including going to the pool frequently. How can going to the pool damage your teeth? If you go swimming every day and the pH balance of a swimming pool isn't just right, it can actually cause teeth to become yellow over the course of just a few weeks. Just remember to brush at least twice per day, or preferably after each meal!